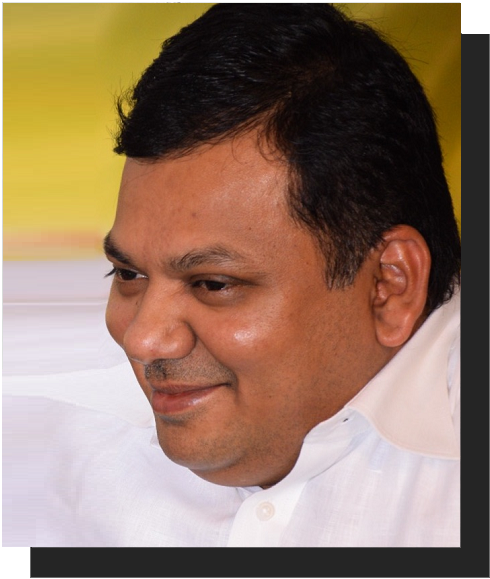 A self-taught entrepreneur who has seized every business opportunity that presented itself and grew with it.
Mr. Jinnah Rafiq hails from the iron & steel industry and was involved in his family business since childhood days. He is the entrepreneur & Managing Director of Gemini Iron &Steel Pvt Ltd, which under his leadership has carved its niche in the quality conscious market. He has broad experience in various business divisions and industries and an excellent understanding of the overall operations of his companies.




Born with an entrepreneur's spirit JINNAH RAFIQ, Proprietor, Parveen Roadways has established his firm's reputation as a professional contractor in ICF and Southern Railways where he has proved his experience in understanding the workshop environment and provide the quality specialized services to the contracts undertaken.




He founded Parveen Roadways in 1994 with a vision to establish an organisation capable of providing end to end services in the railway sector. Till date he has been immensely successful in fulfilling that vision, having proven himself to be an astute leader and businessman




As a strategic investor and Director in Kothari Industrial Corporation Limited (KICL), Mr. Jinnah Rafiq works closely with company to apply his holistic approach to business operations, and to face the challenges of the future by helping the Kothari Group to enhance its business plans.




Gemini Fertilizers was started during the year 2014 with the joint venture of Kothari Industrial Corporation Limited, a hundred year ancient company, Chennai who were the pioneers in the fertilizer industry more than six decades in South India. M/s.Kothari Industrial Corporation Limited (KICL) owns a factory at Ennore near Chennai for production of Single Super Phosphate (SSP). Jinnah Rafiq, Sole proprietor of Gemini fertilizers has joined hands with KICL in fertilizer business and Gemini Fertilizers is one of the leading Manufacturers of Single Super Phosphate. Through the dealer network and branch network, Gemini Fertilizers is engaged in marketing the SSP in its own name using the "Horse Brand". The company has an excellent dealer network which has 10000 active dealers across South India viz., Tamilnadu, Andhra Pradesh, Karnataka & Kerala to market the finished products with a prestigious and popular brand of "HORSE BRAND".




VICE CHAIRMAN AND MANAGING DIRECTOR (KOTHARI INDUSTRIAL CORPORATION LIMITED) is engaged in the manufacture of NPK Physical Mixtures(the raw materials required for manufacturing are UREA, Di-Ammonium Phosphate -DAP, Muriate of Potash -MOP & Dolomite).It is one of the largest Manufacturers of agriculture based products and Fertilizer Trading company in TamilNadu. (logos to be added)




FRANCHISE OWNER (MADURAI SUPER GIANTS) , Kothari (madras) International Ltd opted for Madurai in TamilNadu Premier League (TNPL). The TNPL's first season began during August 2016..




CHAIRMAN & MANAGING DIRECTOR (GEMINI LEGAL CONSULTANTS PVT LTD) The Legal Magic is a Legal service entity, first of its kind in India, where best legal experts meet your legal needs in the comfort of your homes expeditiously with 'feet on street' legal personnel. The company's Business motto is PROFESSIONAL, COMPETENT, AFFORDABLE and EXPEDITIOUS.




CHAIRMAN & MANAGING DIRECTOR (TOPGUARD INTERNATIONAL SECURITY FORCE PVT LTD – TISF) TISF (An ISO Cerifitied Company) is one of the leading total security solution providers and an authorized security company with PSARA LICENSE issued by the Govt of TamilNadu. It delivers specialized services which includes uniformed guarding services, housekeeping services, national and international investigators, executive protection, deductive bureau, event security management and advanced security training. As a quality provider of personalized security solutions, the company is committed to deliver the highest standards of security services for our clients.




DIRECTOR – ABRA HOTELS PVT LTD KALLUPPU Restaurant – a Multi-cuisine restaurant is located in Sundarnagar and FSM Grill Chick – Cantonment. It's the ideal place for Arabian, Indian, Chinese and Tandoor varieties.




KALLUPPU serves quality freshly cooked meals. We are defined as a main stream casual dining restaurant that caters to the Community and local businesses. We provide friendly, attentive service in a relaxed environment.